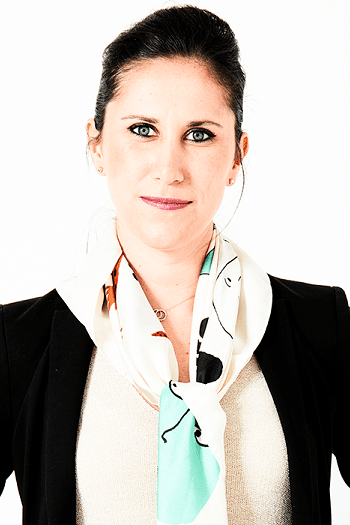 ""MY CLIENTS LIKE MY INNOVATIVE APPROACH AND 'CAN-BE-DONE' ATTITUDE. MY STRATEGIC THINKING AND ABILITY TO BREAK DOWN A PROBLEM AND TRANSFORM IT INTO SIMPLE STEPS AND GOALS TO GET US TO THE SOLUTION WE NEED.""
VIVIANA MUCHARRAZ
EXPERTISE.
BRAND PROTECTION SERVICES. COMMERCIAL. INTELLECTUAL PROPERTY. GDPR/DATA PROTECTION.
Viviana is a legal advisor and business strategist specialising in Commercial and Intellectual Property Law. As well as general advice in both these areas Viviana is an expert on e-commerce matters, trademark registration and infringement, IP agreements, IP Licensing. She is also provides Spanish and Mexican legal advice.
Tell us a bit about what you do?
I work with small businesses, start-ups, and individuals who have great ideas and need support to make those ideas happen. My clients, like me, are entrepreneurs. They want to do something for themselves, contribute to society, improve something that already exists or create something that hasn't been done before. That's where I come into play!
I work with my clients to identify their needs and, based on those, I put in place the right legal approach that will help them to establish and grow their business while diminishing potential risks inherent to their operations. I often work with clients in the tech sector, which I love. As technology moves faster than the law it gives me the opportunity to think 'outside the box' and implement creative solutions. The retail sector is another interesting space to work in – so much variety. Wherever I work, I get to help great people achieve great things.
How do you like to work with clients?
I like to get to know my clients' businesses inside and out, this is vital. Every business is unique, as is what they are trying to achieve. I love being part of my clients' team. Advising them in their every-day operations and working together to develop and create the right strategies and legal framework to make their businesses as success. My clients like my innovative approach, 'can-be-done' attitude, strategic thinking and ability to break down a problem and transform it into simple steps and goals to get us to where we need to be. The best part of what I do is being a trusted advisor. A 'go to' person when advice support and solutions are needed. That's a real privilege.
What do you enjoy most about your working day?
They say "do what you love, and you'll never work another day in your life." Well I love to learn new things, fulfil tasks and objectives, and transform challenges into opportunities. I feel lucky that at the end of every day I have accomplished something for my clients and for myself.
What makes you happy?
Lots of things… my husband, talking to my family, hanging out with friends, watching a good movie, listening to songs I like, making new plans, travelling, laying down after a long day, waking up and planning my day, achieving my goals…
Expertise & Accreditations
UNED / Universidad Francisco de Vitoria | Bachelor of Law | Spanish and EU Law
University of Bradford | LLM degree in International Business Law |English and EU Law
Barra Nacional de Abogados | Bachelor of Law | Mexican Law
Fluent Spanish speaker
Services VIVIANA offers