Sep 2019
Five Top Tips on How to Modernise your Business Now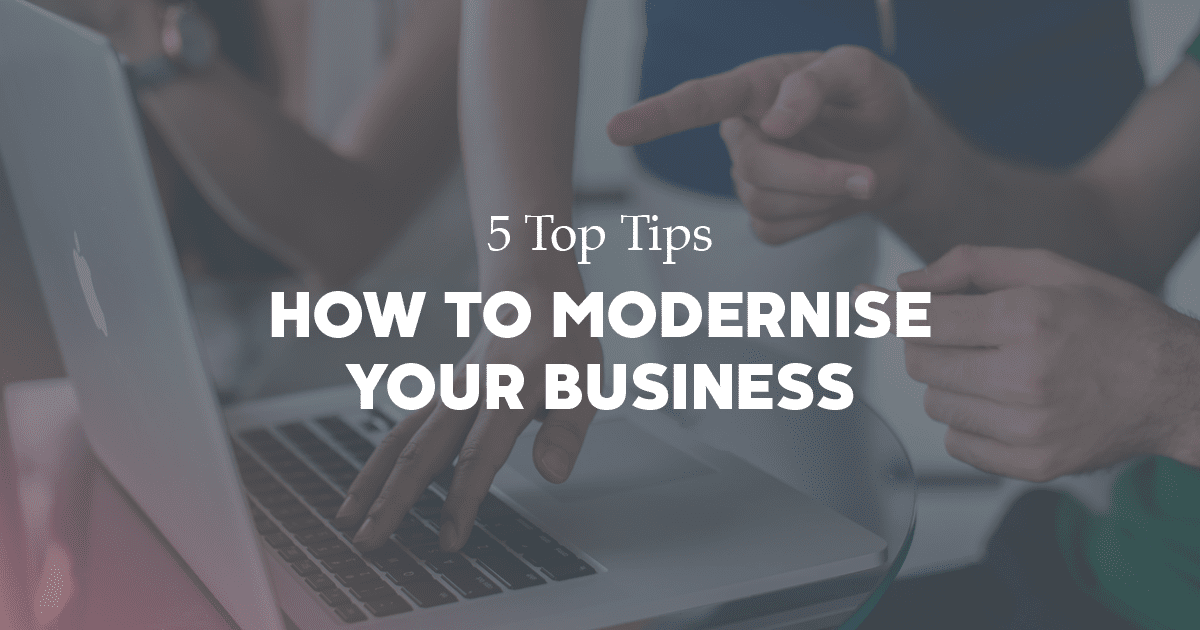 'Modernising your business' will have different meanings depending on your brand. But no matter what you sell, the customer still expects that commercial transactions will have the convenience of modern technology.
So, here's a look at five ways to ensure your current business practice remains in tune with the modern world.
1. Digitise your marketing
An increasing number of would-be customers will expect to be able to reach you via your website. In addition, returning customers will want to be sure they can consult your website for after-sales advice, to arrange routine maintenance, purchase upgrades and partner products, and much more besides.
So, your website must be customer-centric in every way, making it easy to order goods, make payments, contact specific departments and personnel, as well as facilitating actions such as requesting brochures and making complaints.
Furthermore, your marketing effort must precisely identify your target audience, and be aimed at those channels (e.g. social media) where your potential customers are to be found. It goes without saying that your marketing content must also be tailored to the needs and expectations of this target group.
2. Organise your apps for business software
Your business must be mobile-friendly, because that's how a growing number of customers will wish to make contact. Functionality in this environment is controlled by apps, so your website and ancillary devices must be able to handle every kind of app-driven communication.
On the customer side, loyalty apps will enhance customer communication across various channels and help to increase spending, while convenient payment apps will ensure customer transactions run as smoothly as possible.
More particularly, your company may well have business-specific apps which control functions vital to your own products and services. Meanwhile, your back-office staff will also benefit from apps which streamline office productivity and allow flexible working patterns. Whilst these will be largely determined by your business focus, they are bound to include features such as appointment scheduling and apps for the efficient management of customer relationships.
3. Protect your systems against cyber hacks
Hackers may cause annoyance and inconvenience, but cyber-attacks on commercial websites and supporting IT systems can cause mayhem and destruction on a much grander scale. In addition, these unfortunate instances also tend to attract negative media reporting which can be every bit as damaging as the original incident.
Your website and supporting system design must take into account both security and customer convenience. Getting this balance right is an important issue because customers won't return to sites which are awkward and time-consuming. However, they will be equally unlikely to patronise an easy-going site which fails to secure and respect their private information.
No modern business can really afford to cut corners in this vital area – and if they do, it's only a matter of time before they pay the penalty.
4. Take advantage of cloud storage
Modern business operations make heavy use of database facilities. In addition, the processing of stored data and the use of both customer and business-generated data for projections, analysis and a host of other business operations creates yet more data of its own.
For most businesses this causes local data storage problems which can only be solved by using cloud-based computing resources. And beyond simple storage, cloud computing can also facilitate other aspects of business operations. These include flexible mobile working, efficient multi-site collaboration, automatic updating and secure system backup services as well as the benefits of cost savings and automatic replication and scalability.
5. Update your brand
Digitisation is an opportunity to review and refine the brand image you wish your business to project. You should regard this quality as the 'personal character' of your organisation. And just like any human personality, the more clearly it can be defined, the easier it will be to communicate to others.
That special quality should shine through every conceivable aspect of your corporate style: your business logo, advertising slogans, global colour palette, coherent product and website design and more.
This will, of course, also extend to the nature of your corporate decision making itself and how the outcomes are communicated to staff, customers and other stakeholders.
---
If you'd like to get in touch with Robert you can reach him on robert.flint@carbonlawpartners.com or by calling him on 07961 536 337.