Jun 2019
Five Top Tips When Negotiating a Business Purchase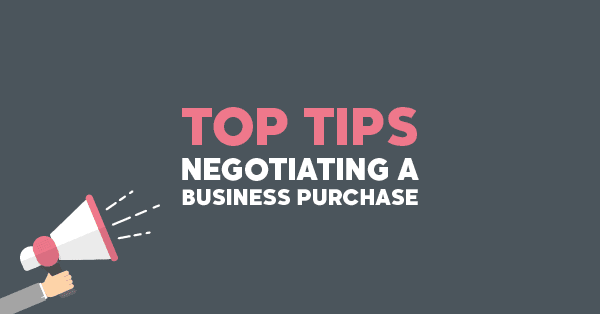 Negotiating the purchase of a business calls for a mix of generic bargaining skills, as well as experience of the specific context in which such negotiations take place.
For most would-be business owners, it's primarily the novelty of the situation in which they find themselves which creates the greatest difficulty. So, if purchasing a small business is on your radar, here are 5 tips to help guide you through the process.
1. KNOW YOUR FINANCES
You'll of course know the 'guide price' of any business which interests you. And perhaps even more importantly, you'll already know what you can afford. This latter information should not be used as a guide to what you are prepared to offer. That should be determined by clearly quantifiable information about the genuine worth of the business and the property.
However, it will necessarily constrain the kind of business listings you make enquiries about, and also encourage you as a potential purchaser to make sure any obligations you take on, remain strictly within your budget.
2. IGNORE THE FIRST PRICE YOU ARE QUOTED.
Your aim should be to begin negotiations at the lowest possible price. An offer well below the asking price may well wrong-foot the seller. With luck, it may also dampen down expectations and gradually erode the seller's resolve to stick out for something around the published listing price.
This opening tactic will only succeed if you are able to back up your estimate of the worth of the business with supporting arguments. Therefore, you'll need to do some careful homework to make your case.
For example, if you're looking to buy a hotel,perhaps the establishment caters for seasonal guests who are declining in number, the property may need a revamp to modern standards, or maybe you know a large hotel chain are interested in extending their coverage into the region. (BusinessesForSale.com is a useful source of additional tips on buying in specific sectors, for example this article on buying hotels.)
3. KEEP YOUR BUDGET PRIVATE.
Of course, you'll never divulge your 'best possible offer' to the other side. But, as any skilled poker player will tell you, certain attitudes and behaviours could unwittingly allow the vendor to make an educated guess about your circumstances and financial capability. So always keep your reactions very low key.
What this perhaps also implies is that you should try to remain calm and show qualified interest in what is discussed. Whilst this is much easier for a skilled negotiator, you will find it more comfortable to handle if you can stick to factual assessments and always look for supporting evidence as matters proceed.
It goes without saying that allowing yourself to be swayed by any of the seller's flights of fancy will not help your cause in this respect.
4. KNOW THE MARKET AND THE SECTOR.
At the negotiating stage you should be able to rely on accurate information gained through due diligence. That may give you a good idea what your prospective business may be worth in strict 'value for money' terms. However, knowledge is power, and it's just not possible to have too much information in these instances.
To continue with the example of the hotel, besides the professional due diligence carried out by your team, you may also wish to look closely at the local accommodation and leisure sector to spot trends or possible new developments. Of course, you must also explore and understand the national picture to pick up any potential changes in tax or legislation which might affect your acquisition of a new business.
As well as this careful research, you must also decide whether as a new owner you are likely to need the goodwill of the existing business to continue trading, or whether you have new independent plans of your own.
Furthermore, all this information should allow you to formulate and rehearse your own arguments which you will put forward during negotiations. All this pre-planning is time well spent, because it will allow you to be fluent and confident in pressure situations.
5. DON'T RUSH THINGS.
Take your time as you move through the negotiating process. Keep checking that you are making the right decisions at every step and ask an adviser for help if you're unsure about anything. Try never to be offensive or critical for its own sake because it automatically makes the sale side more defensive.
Professionals suggest that the way to build that essential rapport with your opposite number is to work on the small uncontentious things first. That helps to develop a good relationship which you will be glad of at a later stage.
Above all, keep everything professional. You can advance your position by posing plenty of 'what if' questions – e.g. 'What if there's a change of government?' While not aggressive, this strategy can blindside the opposition and undermine their confidence, all to your advantage.
Don't ever feel you must give some ground just because the seller has, but when you are considering making a concession of your own to break a potential impasse, always introduce your new proposal with 'If'.
And finally, don't forget that a successful negotiation is one in which both parties are satisfied with the eventual outcome!
---
To get in touch with Rob your can reach him on:
Mobile:+44(0)7961 536 337