Nov 2017
Carbon Stories | #1: The Founder Story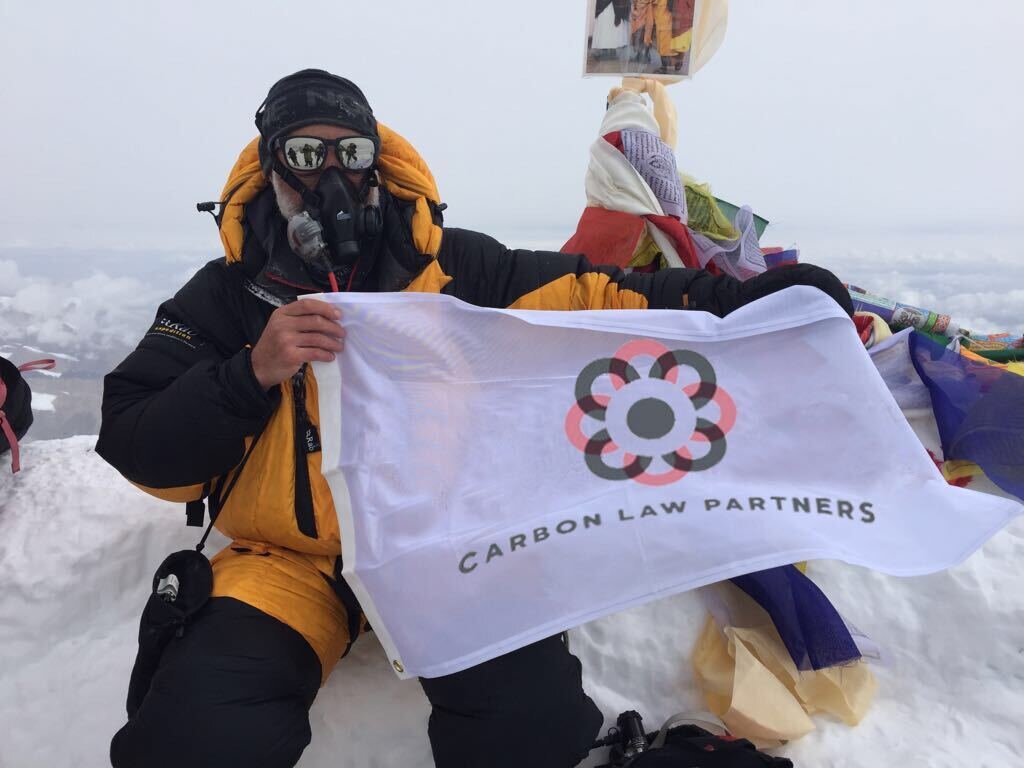 EXPLORERS, MAVERICKS & PIONEERS
It's unlikely that many law firms have had their company logo fluttering in the breeze on the top of Mount Everest, but then Carbon Law Partners is not your average law firm.
When former Cardiff Devils ice hockey player Jeff Smith climbed Everest in 2017, he planted a specially commissioned Carbon flag at the summit. It was his way of thanking Carbon for its help with his fundraising.
Carbon Law Partners' founder Michael Burne has always admired explorers, mavericks and pioneers. So when Michael met Jeff and heard about his goal to climb Everest, and to inspire children to achieve their own dreams, he was keen to help.
The Everest story represents Michael's own intrepid spirit. He has set his sights on an adventurous goal of his own: to build in Carbon a very different type of law firm that delivers better value to both its clients and lawyers alike.
Michael believes the practice of law is broken and that the way in which legal services are bought and sold is outdated. He feels that traditional law firms' culture, environment and structure aren't designed to enable lawyers to do their best work. That employers aren't creating the right conditions for success. What's more clients are equally unhappy for the same reasons.
The idea behind Carbon came from Michael asking himself a simple question — how could things be better? "I wanted to change how law firms operated and transform the usual business model for how lawyers worked," he says. But the journey from idea to execution — as with most entrepreneurial stories — was not a straightforward one.
The first time Michael tried to make his business idea happen, he hit an obstacle. It was September 2008. As he started pitching for funding, Lehman Brothers collapsed and the financial crash happened around him. He knew he had a great idea, but the timing just wasn't right.
So he found a port in a storm. "I went to take safe harbour and put down an anchor," he says, explaining how he left his idea on the shelf while he got busy with a new, senior role.
It was a prestigious position but gruelling too, where he left home early in the morning and arrived back late at night. He wasn't seeing much of his young family. He knew the job wasn't him. The desire to work for himself gradually became stronger. He got restless.
Michael knew starting a new model law platform wouldn't be easy but his fear of living with the regret of not trying out his idea won over.
"I still had the same conviction about what I believed," says Michael. It was time for him to leave that safe harbour and make his dream happen.
He took the leap from his secure, high-flying role and Carbon Law Partners was born.
Michael credits his entrepreneurial drive to his father Bob. Bob Burne started a business travel company in the 1960s. Michael had worked there during his school holidays as a messenger boy delivering travel documents around London. It's there he learned the importance of face-to-face customer service. Bob taught his son that if he's bold, brave and believes in what he's doing, he can pull it off. That's given Michael the fuel on his journey.
Now Carbon is attracting lawyers that share their audacious spirit to join them on a journey to their own summit.
"We're not just a little law firm in Cardiff. We're building something special — a professional services platform born in Cardiff, but already in Bristol and London too," says Michael.
"For me it's a calling. I want to show people that when it comes to law, it doesn't have to be the old, traditional way. There's the Carbon way."
To learn more about Carbon's origins, watch Michael's DO Lectures talk
---
Penned by Ian Sanders | Twitter: @IanSanders