Jul 2017
GREEN THINKING: THE ROOTS OF BRISTOL's YURT LUSH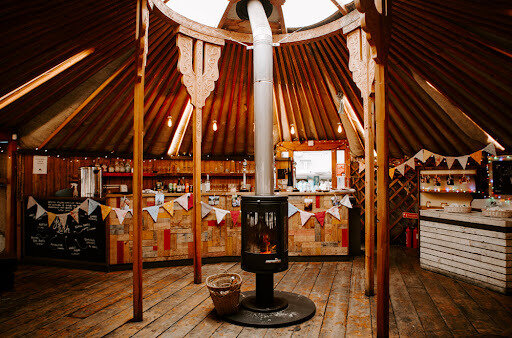 You wouldn't expect to step outside a British train station and be faced with a Mongolian yurt, but this is exactly what you get in Bristol! Let's delve into the backstory of Yurt Lush and its enterprising founders at Eat Drink Bristol Fashion…
Just a few months ago, the Sustainable Food Cities Network rewarded Bristol for its commitment to promoting and improving access to healthy, sustainable food. This mission drives no Bristolian eatery more than Yurt Lush, which serves fresh, locally sourced food in the unique environment of a yurt.
THE SEED IS PLANTED
Eat Drink Bristol Fashion began on a farm overlooking Chew Valley Lake, where Josh Eggleton (the Michelin-starred chef behind Bristol's award-winning pub the Pony and Trap) and Luke Hasell (owner of the 500 acre farm) decided to organise a 'Secret Sunday Lunch'. The exclusive one-off event was so well received that the pair saw potential for growth.
In 2012, Queen's Square played host to the very first Eat Drink Bristol Fashion festival and thousands descended upon the now iconic 'tipi village' for food, drink and live music. Josh and Luke were clearly onto something big!
YURT LUSH
Following two Queen's Square festivals, the team's next move was to open Yurt Lush, a bar and kitchen with a menu of natural, sustainably sourced food. What was originally meant to be a temporary residency in Bristol's Creative Common area ended up becoming permanent… until a change of location was announced earlier this year.
Yurt Lush can now be found behind the Engine Shed of Temple Meads station, next to the eye-catching Boxworks cluster of offices – incidentally where Carbon has just opened its Bristol hub. So what else is different about the new incarnation of Yurt Lush? Well, it's bigger than ever before, with room for seating 100 people, and has longer opening hours too. As such, it has quickly become a popular spot for after-work drinks and food.
FROM FIELD TO FORK
Eat Drink Bristol Fashion pride themselves on their "field to fork" ethos and even set up the Field to Fork Foundation last year, to celebrate Bristol's European Green Capital title.
Yurt Lush's rustic setting (with a wood burning stove and all!) isn't the only connection to the past that it has – a lot of its ingredients come from Luke Hasell's Chew Valley farm, where Eat Drink Bristol Fashion had its humble beginnings. And being a true entrepreneur, Luke doesn't have his eggs all in one basket. He also owns:
The Community Farm, supplying the local area with organic food through a box delivery service and hosting farming experience events, with the motto 'shake the hand that feeds you'.
The Story Group, which delivers fresh meat boxes and runs a traditional butchers shop in Bristol.
Tipi Events – 'green events in alternative tents', hiring out tipis for occasions such as weddings.
Eat Drink Bristol Fashion's website says it was founded by people "with a passion for sustainability, food provenance and fun times" and that's certainly what Yurt Lush is about. Head over there for some food or a drink and you might even bump into a member of the Carbon Bristol team!